4. 5. – 15. 7. 2018
SEMPÉ is an international "brand," best known for comics. There are only a few people who do not know Sempé, only very few people have never come across the name. In the Czech Republic, it is mostly associated with René Goscinny and his Little Nicholas book series. However, Sempé had been also represented by his comic strips. They are mostly devoid of words, and if we do find some, they are, similarly to drawings, mostly premeditated comments to the point uttered by the humorist, who finds inspiration in deeply human situations. They are not quick sketches on life in the street, but rather represent hours of work over a blank sheet of paper.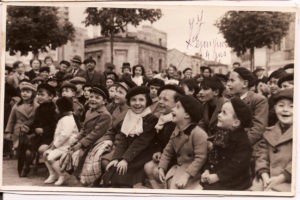 Jean-Jacques Sempé is a Parisian from Bordeaux. He was born in the south-west of France, grew up in a family of a sales clerk during World War II. He does not have happy memories about his childhood and speaks about a tense family atmosphere with frequent arguments between his parents. School, on the other hand, became his refuge, a place where he would go every day. He would counter difficult situations by listening to the radio, jazz in particular. It was here he developed his love of Duke Ellington's music, along with his dream to become a member of the orchestra of his beloved Ray Ventura.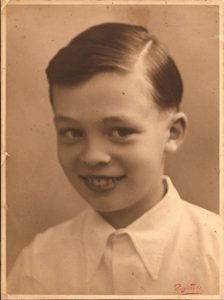 He left school at the age of 14 and found work – he delivered dental powder on his bike, sold wine, etc. When he lost thejob, he forged his date of birth and joined the army to be able to support his family. At that time, he spent a lot of time drawing – he places the beginnings of his artistic pathway at the age of twelve. He struggled with the army life for some time, spending his free time drawing and visiting newspaper publishers with a folder offering them his drawings with unending patience.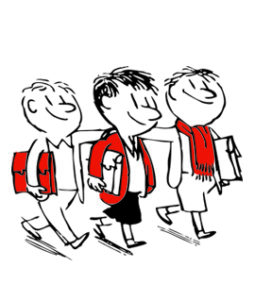 At about the same time he also showed his portfolio to Yvan Le Louarn from École des Beaux-Arts in Bordeaux, known as Chaval. This famous cartoonist, caricaturist, film maker and script writer helped and mentored Sempé, who was seventeen years younger, opening for him the door to the newspaper world. Bordering on the age of 18 , Sempé published his first drawing in the Sud-Ouest daily in Bordeaux. The signature read "Dro" (from the English word DRAW), something to simply demonstrate that he is to be a "drawer" or draftsman.
As a humorist with a rather gloomy background, Sempé always wanted to draw "happy people." From the moment he had to get down from the beloved bike, also people who move fast … He simply wanted to draw what he longed for. We cannot find even a grain of self-pity in his work; it lacks bitterness, arrogance and vicious irony. He does not capture what is merely visible; instead, he focuses on how to draw it as clearly as possible, and last but not least, to describe it, because he considers the power of the word to be equal to the message conveyed by a picture. This is related to his play with scale; Sempé's rendition of man is petty and his individuality insignificant, although he gives his figures extraordinary space.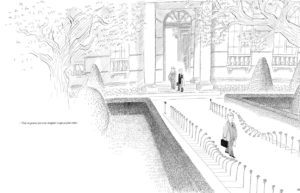 This recipient of the Art and Literature Award started on his path to success at the Sud-Ouest daily. In 1952, he also began to work for Le Moustique in Belgium and published several front pages; soon after, the editors asked him to create a comic strip with a single main character that would be published on a regular basis. Sempé was not into comics and were it not for Renée Goscinny, whom he asked for cooperation, the Nicholas that we know today would not exist. The Goscinny-Sempé duo was noticed by the Denöel publishing house, which decided to publish the stories as a book. Between 1954–2010, the stories of little Nicholas were published in many versions and were gradually translated into more than 40 languages. Alongside little Nicholas, Sempé also published his cartoons for adults in many other French periodicals (Le Rire, Noir et Blanc, Ici Paris, Samedi Soir France Dimanche). Step by step, he conquered media including Paris-Match, contributing to Goscinny's cartoon weekly Pilot since 1960, the British Punch and the American Esquire. Between 1965–1975, he published an image every week in the L'Express magazine.
Upon the start of his cooperation with Le Figaro and Nouvel Observateur, French media pillars, Sempé was already an established artist.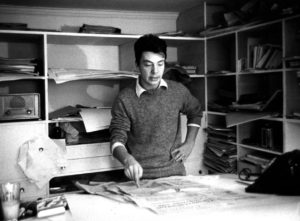 Sempé's first independent album of caricature and cartoons is his book, Nothing is Simple (Rien n´est simple), published by the Denöel Alex Graal publishing house in 1962 only after Sempé applied slight pressure, allegedly claiming that he would only continue with Nicholas if Denöel published his book of humor. Graal's risk paid off. Since 1962, Sempé published 38 books in the publishing house, with the last five being part of the Martine Gossieaux series.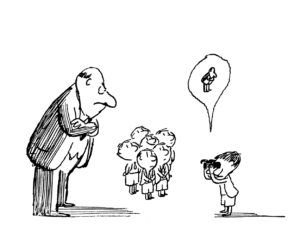 Having won its renown around Europe, the Sempé brand expanded oversees. The offer to create front pages for The New Yorker came in 1978. New York was an important city for Sempé, second only to his beloved Paris. He drew over dozens of front pages for the magazine, thus matching the formidable giant of illustration, caricature and humor, Saul Steinberg.
We could say that Jean-Jacques Sempé has achieved all a humorist might dream about. His cartoons are featured on prestigious and much sought after front pages of world periodicals and luxurious advertisement sections. His books continue to be published in major world languages. In addition to publishing, he also frequently exhibits his work, with over twenty exhibitions held under the Martine Gossieaux Gallery trademark. Little Nicholas keeps returning in many variations. Even at the age of 86, he keeps sending his drawings to Paris Match and visiting his favorite cafés in Paris.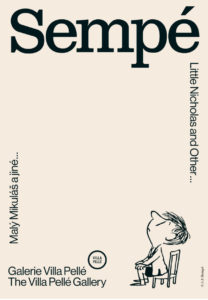 Sempé has become immortal, although this may not have been his intention. Perhaps it was his introverted nature, meticulousness, certain impudence, unusual sense of humor and the need for freedom that made him who he is. Sempé is a brand. A brand that stands for the best cartoon and humorist illustrations.
Klára Voskovcová, Sabine Sauvage
A quick look at the show: